DJ Hell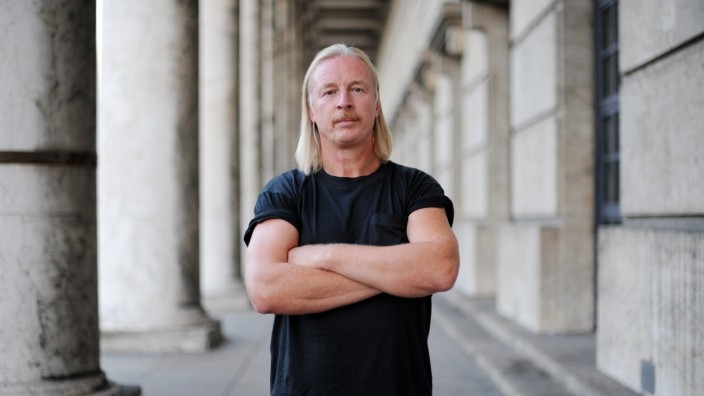 As DJ Hell said about his musical beginnings in an interview with The European: "I was socialized with German electronic music of the 1960s and 1970s. There were no commercial aspirations; it was all about experimentation."[1]

Hell has worked as a DJ since 1978. Starting in 1983, he began working as a DJ at Club Libella in Kirchweidach, Germany, near his hometown of Altenmarkt an der Alz. This would be his first residency, where he cultivated his eclectic style of mixing New Wave, Ska, Punk, Rockabilly, Hip hop, and Disco in the same set. Further residencies followed, at Park Café and Tanzlokal Grössenwahn in Munich, where, as one of the first house DJs in Germany he regularly performed at house music parties. In 1987 he organized the first acid house party there, and in the same year at Grössenwahn deejayed at Run–D.M.C.'s aftershow party. At the end of the 1980s, he developed his style at various Munich clubs and dance halls from New Wave, EBM, Electro, and Hip hop to include House and Techno.

In 1991, Hell was instrumental in establishing Peter Wacha's label Disko B, and until 1996 was closely involved as A&R. The label's first release in 1991, Silicone Soul's track Who Needs Sleep Tonight was licensed by Hell, who produced a remix for the b-side: The DJ G. Hell Remix.

Hell's first self-produced single, My Definition of House Music (on R&S) became a club hit in 1992 with over 100,000 records sold, drawing recognition to DJ Hell among the first generation of Techno DJs who also released records.

During his time with Disko B and until 1997, DJ Hell was also a resident DJ at Ultraschall, Munich's first Techno club, located on the site of the former Munich-Riem Airport.

During the 1990s DJ Hell had further residencies in Berlin, at E-Werk and WMF, from 1992 at Tresor, and in the 2000s at Watergate.

Parallel to his A&R work in Munich, in 1992 DJ Hell became A&R manager for the label Logic Records in Frankfurt, and in the same year compiled the world's first trance compilation, Logic Trance.

In 1993 he lived for a year in New York City, where was booked as a resident DJ at Limelight, together with Jeff Mills.

In 1994 DJ Hell moved to Berlin and worked for the record store Hard Wax. Hell's debut album Geteert & Gefedert (Tarred & Feathered) was released on Disko B in 1994.

In 1995, he moved back to Bavaria.

That same year, Hell was the only German DJ to be invited to be on a John Peel Session, including a radio interview, in London. The session was released that year on Disko B.

In addition to his work as a DJ and producer, in 1997 he founded the label International Deejay Gigolos in Munich, for which he served from the first day onward as the label mastermind, A&R, and art director. Parallel to managing the label, as a DJ and event organizer, Hell also curated over 40 Bavarian Gigolo Nights featuring international DJs and live bands in various clubs in Munich.

In 1999, Arnold Schwarzenegger sued International Deejay Gigolos for using his picture in the logo. Hell had to stop selling all records that bore the logo and pay a fine of 150,000 euros.

In 2000, Hell's second album Munich Machine was released on V2 Records.

According to the music magazine De:Bug: "Munich Machine feels like the result of a dynamic collaboration by Munich residents engaged in the club scene and who know how to work with it. Every aspect of it has been carefully crafted and sometimes it seems as if DJ Hell is using this kind of mega-mix to grow beyond himself. This is particularly evident when he mixes together very different sources."[2]

In 2001, the label moved to Berlin. Stylistically, its music spans the categories of Electroclash, Electro, EBM, electronic avant-garde House, Tech-House, and Techno, with influences from 1980s Pop and Disco. International Deejay Gigolos has released works by big names on the international Techno, House, and Electro scenes, including Jeff Mills, Dave Clarke, Tiga, Fischerspooner, Dopplereffekt, Vitalic, Bobby Konders, Miss Kittin, KLF, Tuxedomoon, and Laurent Garnier. Fischerspooner was discovered by DJ Hell and debuted on International Deejay Gigolos. In the 20 years spanning 1996 to 2016 that he has handled A&R for the label, Hell has released over 300 singles and albums on International Deejay Gigolos.

The numerous releases on International Deejay Gigolos notably fuelled the 1980s revival in the German and international club scene, establishing DJ Hell as one of the founders of the Electroclash subgenre.

From 2000 to 2003, he ran the disco and nightclub Villa Traunstein, located in the Bavarian town of Traunstein, where he was responsible for the club's high-profile, international DJ bookings, including the likes of WestBam, Sven Väth, and Jeff Mills.

Since 2002, DJ Hell has been based in both Munich and Berlin. From 2007 to 2010, he served as musical coordinator for Berlin fashion designer Michael Michalsky, for whose fashion shows he regularly produced the music. Hell has also performed at the after-show parties of Michael Michalsky's StyleNite, held during the Berlin Fashion Week.

DJ Hell has been producing music for fashion shows since the mid-1990s, for the likes of Hugo Boss, Raf Simons, Patrick Mohr, Dirk Schönberger, and Donatella Versace – ever since he was first asked by fashion designer Kostas Murkudis to accompany one of his fashion shows in Berlin with music.

DJ Hell occasionally works with renowned fashion labels, either lending his name or collaborating as a designer. This work has given rise to an underwear collection for Wendy & Jim, women's underpants for Agent Provocateur, CD cases for Magma, and a pair of glasses for Freudenhaus.

In 2004, Karl Lagerfeld photographed DJ Hell for V Magazine. These photographs were then exhibited at a gallery in Berlin.

DJ Hell on his affinity for fashion (in SPEX #316/2008, p. 95f): "In England, fashion and music have gone together for decades. In Germany, however, one tends to deny a musician's competence if he defines himself superficially, that is, according to things that are visible. Just think of David Bowie on the male side, and Grace Jones on the female side, and it becomes clear that a union between fashion and music can be incredibly prolific."

As a DJ, Hell has toured worldwide, and repeatedly headlined international festivals such as the Loveparade and Mayday in Berlin, Fuji Rock and Wire in Tokyo, the Montreux Jazz Festival, and the Time Warp Festival in Mannheim. He was the first Techno DJ to perform at the University of Havana in 1997. The performance was filmed by a German film crew directed by Torsten Schulz, and screened in 2000.

In 2002, Romuald Karmakar shot a segment of his film "196 BPM" during a performance by Hell at WMF.

In 2003, GQ magazine named DJ Hell "Man of the Year" in the category of music.

That same year, DJ Hell lived for a second time in New York City, where he produced his third studio album NY Muscle, for which he collaborated with several artists, including Alan Vega, Erlend Øye, James Murphy, and singer Billie Ray Martin.

The website allmusic.com wrote about NY Muscle: "This is the sound of nighttime New York City from the outsider perspective of an infamous German named Hell, and it's dark, dark, debauched fun."[3]

In 2009 Hell released the album Teufelswerk (Devil's Work), which again features several international guest stars, such as Bryan Ferry, Peter Kruder, P. Diddy, Roberto di Gioia, Mijk van Dijk, Christian Prommer, and Billie Ray Martin. The double album is conceptually divided into "day" and "night" parts, and ranked in the Top 50 of the German Media Control charts.

According to Hell in an interview with Resident Advisor: "I did Kosmische Musik in a new way. This is where I come from, I grew up with the early German electronic pioneers of music, and this is why I went in this direction. Often it is called German electronic avant-garde, or psychedelic music. I went back to the '70s and tried to do it in my own way."[4]

The Guardian on Teufelswerk: "With Hell acting as conductor, and Kruder, Prommer, and Roberto di Gioia playing a mixture of synths, acoustic guitars, Wurlitzers and 'rhythm machines,' the four sweep back and forth across Europe, mapping the psychic highways that link Kraftwerk's Dusseldorf and Jean Michel Jarre's imaginary, futuristic Paris; Pink Floyd at the UFO Club in 1966, and Café del Mar in 1987; cavernous booming dubstep nights in modern Berlin and Goblin's progressive 1970's Italy."[5]

Since 2009, DJ Hell has supported the feminist Ukrainian activist group FEMEN with various DJ and television appearances.

The self-confessed fan of the FC Bayern Munich soccer club is a jersey sponsor for TSV Altenmarkt, the football club of his hometown. Contrary to rumors, he does not possess a professional coaching license. For the 2006 FIFA World Cup, Hell was booked as a DJ for the opening ceremony at the Olympic Stadium in Berlin, but the event was canceled on short notice by FIFA.

DJ Hell on his football passion in Alert, 8/2002: "I watch the home games of FC Bayern Munich. I also represented Germany as a DJ at the recent European and World Championships, travelling with the German national team from city to city, and deejayed on the evening before the games. My contract stated that the organizer had to get me tickets for the games." (See Alert 8/2002, p.51)

The name of DJ Hell's latest album, his first since 2011's Teufelswerk, translates as "music of the future." It's ironic, then, that so much of Zukunftsmusik is inspired by the past. There are obvious echoes of Kraftwerk, Gary Numan, David Bowie, new romanticism, electroclash and any number of gothy synth acts. Some of these tracks could have come out in 2002, '92, '82 or even '72. The album overflows with nostalgia for days gone by. The shocker is that Helmut Hell often makes it work.

Much of Zukunftsmusik steers well clear of the dance floor, with an emphasis on quasi-classical melodies and brooding ambience. "Anything Anytime" drapes elegiac piano, pulsing strings and a vocodered voice over a dirge-like beat. Treated vocals also inhabit "High Priests Of Hell"—but here, the sliced utterances feel more malevolent, sitting as they do in a bed of jagged rhythms and disorienting clatter. "With You"—a cover of a bleakly beautiful Robert Görl cut from 1983, "Mit Dir"—has a romantic allure, aided by the slightly sinister vocal presence of Stereo MCs' Rob Birch.

"Wir Reiten Durch Die Nacht," is Hell's Kraftwerk pastiche, driven by the gentle throb of an "Autobahn"-esque bassline. "2 Die 2 Sleep," with its droning synths, mournful horns and wistful languor could be a lost track from the instrumental half of Bowie's Low. Bowie's ghost, in full Kurt Weill mode, materializes again on the ambitious "Army Of Strangers," a cut full of grand gestures and over-the-top orchestration. "Car, Car, Car" is the half-speed cousin to Gary Numan's "Cars," its barely-getting-out-of-first-gear rhythm and grandiose synth line leavened by deadpan (and amusingly inane) lyrics that explain "a car is not just a car."

Yes, it's derivative. But Hell borrows from his sources with adoration and reverence. Zukunftsmusik's dance floor excursions, however, are less distinctive. Tracks like "Guede," with its gentle 303 pulses and analog swooshes, or the percolating "Wild At Art" feel a bit rote and listless. Of the album's club cuts, the most dynamic is the previously released "I Want U," a salacious tune with a buzzsaw grind and a jackboot stomp.

In German, the album's title has another meaning—"pie in the sky." Hell says the album is his effort to "make sense of the uncertain world, the chaotic present and the fearful future." Even if he's fixated on the past, perhaps that's his way of avoiding dwelling on the pain of what is, and what will likely be. He's dreaming of an improbable tomorrow, one that's as seductive as days gone by.

DJ Hell is the designated curator for the planned Museum of Modern Electronic Music (MOMEM), which is scheduled to open in Frankfurt in 2018.
Next Events w/ DJ Hell
Upcoming Events